Pelican Defense sets up its prototype to protect from HEMP at the EAR demonstration in October 2021 at Cyber Innovation Center in Bossier City, La. (Sean Green/STRIKEWERX)
By Sean Green | STRIKEWERX Director of Marketing and Communications
BOSSIER CITY, La. — Two companies recently showcased their technology aimed at evolving Air Force Global Strike Command's aircrew alerting system.
AFGSC and STRIKEWERX, the command's innovation hub provided by the Cyber Innovation Center, hosted a demonstration by Lumen Technology and Pelican Defense Oct. 14 at the CIC in Bossier City, Louisiana.
The demonstration was the culmination of the six-month long Emergency Aircrew Response challenge to uncover the best solutions from industry, academia, and others to replace 1980s technology and redefine how aircrews are notified of emergencies with little to no warning.
Pelican Defense demonstrated its device meant to harden the EAR system from an electromagnetic pulse and Lumen Technology demonstrated a network designed to act as the backbone for the EAR.
Dr. Chester Wilson, CEO of Pelican Defense, called the showcase process "profoundly rewarding."
"My team is extremely proud to participate in our nation's defense. We are equally proud that these systems can be made right here in Louisiana, bringing high tech jobs and innovation to this region," he said.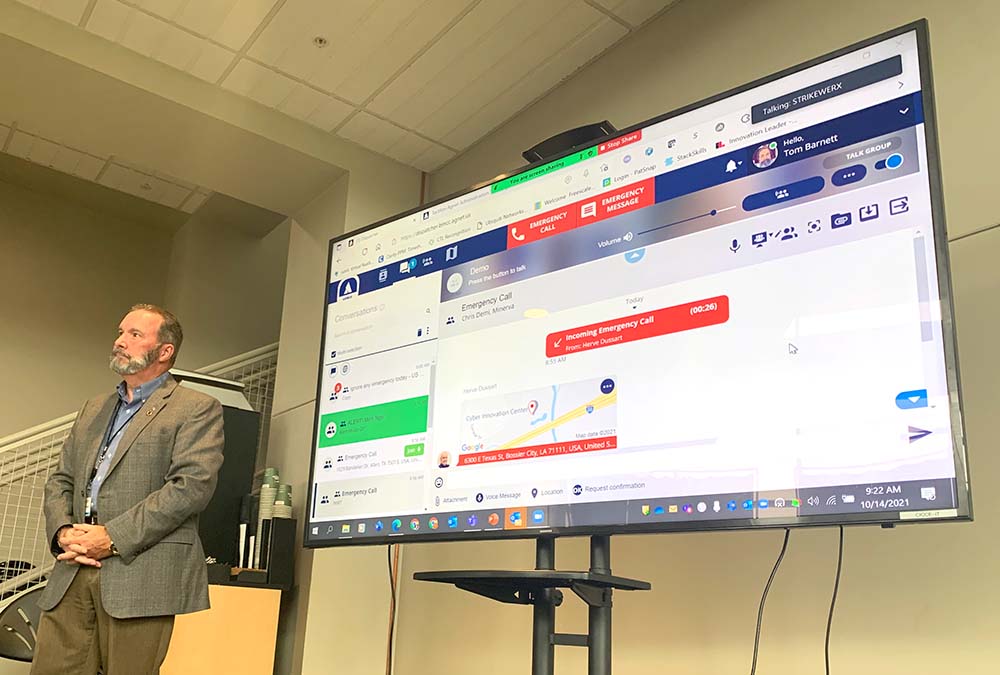 "We developed a set of tools for the rapid development of future technical and operational innovations," said Tom Barnette, director of strategic innovation for Lumen. "We see our solution as providing a reliable, self-forming, self-healing, and rapidly deployable communications network."
The demos were attended by AFGSC Chief Scientist Dr. Donna Senft, AFGSC staff and action officers, as well as the Nuclear Weapons Center program office and program element officer.
If they are satisfied with the technologies' capability, then the technology can be successfully rolled into a program of record. Meaning their products would then be used by the all U.S. Air Force bases that house nuclear forces.
Dr. Senft is pleased with the work being done to help revolutionize the nuclear mission.
"These demonstrations represent the culmination of a process that started more than a year ago to give our Airmen the latest and best technology available in the private sector," Dr. Senft said. "The STRIKEWERX Challenge process has proven to be a valuable tool for unearthing hidden gems needed by Global Strike Command."
The challenge process was conducted through CIC's Partnership Intermediary Agreement with AFGSC.
The Challenge event offers a unique opportunity for identifying solutions from individuals, startups, small businesses, large enterprises, academics, and research labs. AFGSC sought a rapidly fieldable, cost-effective, and user-focused solution to modernize and improve outdated equipment and communication pathways aircrew alerting.
This method of fielding technology transition solutions has already paid dividends with Air Force officials estimating the program's cost dropping from $450 million to $223 million.
STRIKEWERX Director Russ Mathers is noted that the challenge process is advanced market research to see the latest available technology.
"It's like when you want to buy a new refrigerator and you pull up consumer reports, shop around for the newest capabilities, visit a store to see it in-person and buy the latest proven technology," he said. "We're doing that homework for the government personnel, so they don't have to."
The challenge, supported by AFWERX, resulted in hardware and software that enables rapid communication via a lightweight, portable device that can reach aircrew members anytime, anywhere — including inside aircraft and secure areas that do not allow electronics — and protected from High-Altitude Electromagnetic Pulse (HEMP).