A team of missile maintainers, Louisiana Tech University engineering and Kennon Products design a prototype cover for the B-52 engine during a design sprint held at the Cyber Innovation Center, Bossier City, Louisiana, July 18-21. (Sean Green/STRIKEWERX)
By Sean Green | STRIKEWERX Marketing and Communications Director
BOSSIER CITY, La. – STRIKEWERX, Air Force Global Strike Command's innovation hub, hosted a Design Sprint the week of July 18 to help find a solution for B-52 engines in extreme cold.
The sprint specifically sought to solve how to aid the heating of the engine cowling on B-52 aircraft in areas such as Minot AFB, North Dakota, which can see temperatures as low as negative 52 degrees Fahrenheit.
Over the course of four days in STRIKEWERX at the Cyber Innovation Center, Bossier City, Louisiana, a team of industry, academia and subject matter experts worked towards a solution that is weatherproof, easy to use, flexible and easy to store.
"We chose the STRIKEWERX Design Sprint because it can give us new ideas and new solutions," said B-52 Crew Chief Adam Vasas, of Minot AFB. "We received a lot of good input, a lot of things the industry experts suggested that we haven't thought of out in the field, in order to get our problem solved."
The Design Sprint team produced a prototype solution consisting of a cover that would be essentially an extension, or re-build, of a current design made by Kennon Products.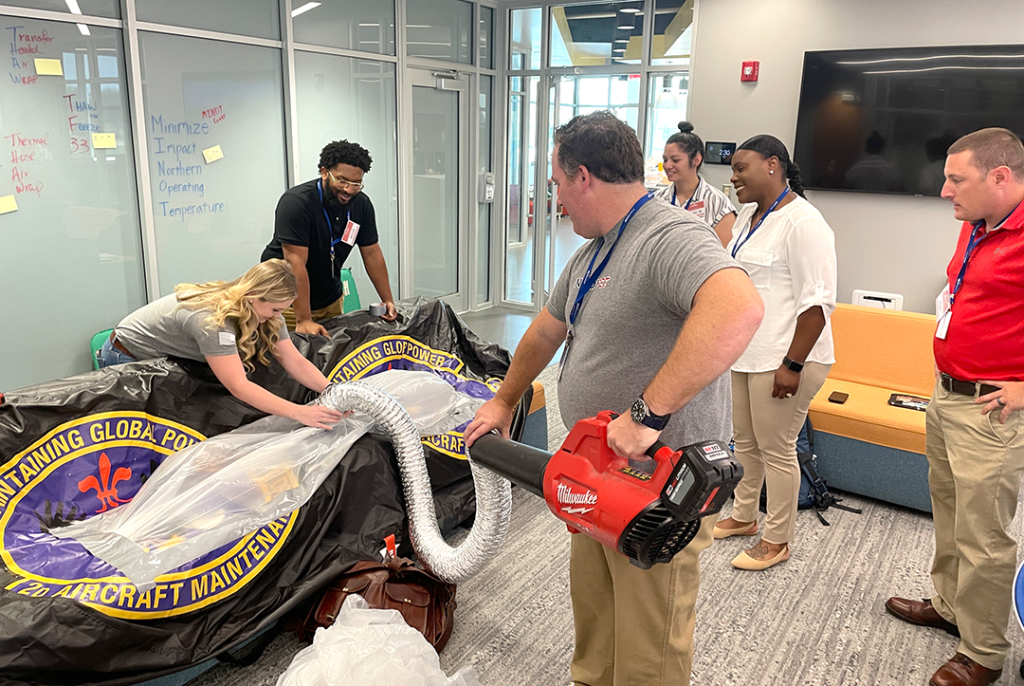 This design would allow for circulation of the heat throughout the engine chambers, as well as having an entry point for the Airmen to be able to check to see if the engine propeller blades are freely turning.
Rachel Heide, design manager for Kennon Products, noted that the Design Sprint process opened the doors to new environments and situations in terms of the traditional design processes used.
"STRIKEWERX is all about innovating, and it brings together so many great, experienced people with a knowledge of different products. We don't always have the opportunity to work this closely with end users, and this Design Sprint is a great opportunity to do that," Heide said.
STRIKEWERX Director Russ Mathers said the week's effort resulted in a prototype that can be refined for testing at Minot AFB.
"The long-term goal was to build a prototype to be tested in the extreme cold. We have a concept that we can give to our industry partner, Kennon Products, that they can now refine and produce for us to test this winter," Mathers said.
STRIKEWERX will continue to host Design Sprints to tackle various issues from around the command. For more info on the Design Sprint process, email info@strikewerx.com.