Airman 1st Class Paul Olexa, innovator from Whiteman Air Force Base, Mo., presents his idea to Air Force Global Strike Command leadership and community leaders during a STRIKEWERX Spark Sprint (S3) event at the Innovation Center, Bossier City, La., Oct. 30, 2020. The event brought together six teams of Airmen from around AFGSC to present innovative ideas to help Airmen, the command or improve Air Force processes. (U.S. Air Force photo by Staff Sgt. Philip Bryant)
By Sean Green | STRIKEWERX Marketing & Communications Director
BOSSIER CITY, La. — Two Airmen were selected as finalists by Air Force Global Strike Command leadership and community leaders as part of the STRIKEWERX Spark Sprint (S3) event held Friday, Oct. 30, at the STRIKEWERX Innovation Hub in Bossier City, Louisiana.
The STRIKEWERX Spark Sprint (S3) event brought together six wing finalists from across AFGSC to receive coaching on how to best "pitch" their projects to obtain further support. Each finalist had three minutes to explain their idea, pitch their solution and present their prerecorded video; this pitch was then followed by two minutes to answer any questions the panel of judges had regarding their idea.
Airman 1st Class Paul Olexa, 509th Bomb Wing at Whiteman Air Force Base, Missouri, and Senior Airman Kalei Sloan, 7th Bomb Wing at Dyess AFB, Texas, were selected as the finalists from the group of six presentations. Olexa and Sloan will now move on to represent the command and pitch their ideas at the 2021 Air Force Spark Tank competition.
Spark Tank is an annual competition, hosted by the Air Force Association's Air Warfare Symposium, which allows Airmen to pitch innovative ideas for solving unit challenges to Air Force leadership and a panel of industry experts who have the ability to further develop or implement the Airmen's solution.
Among the judges for the S3 event was the commander of Air Force Global Strike Command, Gen. Tim Ray, who took a moment to recognize all the innovators for bringing their ideas to the table.
"To listen to you all solve problems with extreme ownership has been the highlight of my entire week," Ray said. "I appreciate your service and pitching in to make the mission better."
Olexa's pitch was the "MagRug," a durable polymer rug made up of light-weight sections with built-in magnets and a circuit for small lights aimed at locating dropped objects. Using pressure and magnetic censors that light up to illustrate fallen objects, this device locates magnetic parts such as nuts and bolts, and reduces time wasted in the aircraft maintenance workplace.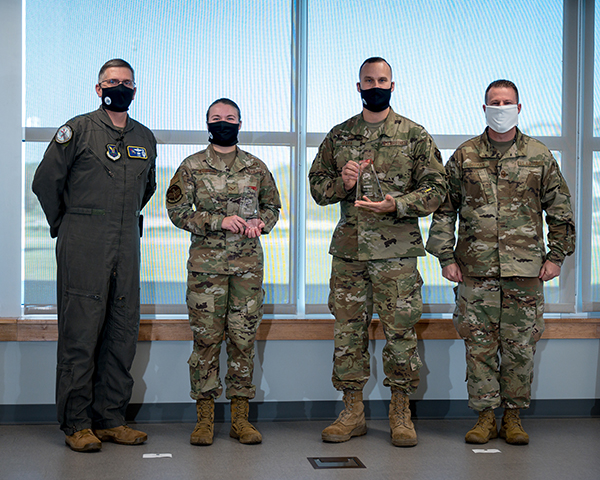 Olexa noted that foreign object damage costs billions of dollars in damage to aircraft and other vehicles worldwide; a problem the "MagRug" could help solve. Olexa also mentioned that his "MagRug" solution could serve a purpose in more than just the world of aircraft maintenance, having applications in the private sector for first responders and emergencies.
Sloan's pitch was for the "StrikerAF App" which would improve a unit's sponsor program by: matching sponsors with new Airmen, providing up-to-date contact information and prompting sponsors to complete tasks. The StrikerAF App also simplifies initial contact between sponsors and Airmen, by providing new Airmen with an in-processing schedule and contact info.
"Our Airmen need to be more resilient. The building blocks of resiliency are sponsorship, DUI, suicide prevention and sexual assault prevention," Sloan said. "Through this app, we want to give Airmen a community where they feel connected and be able to talk to their peers."
The app has more capabilities aimed at providing Airmen that community: connecting them with peers before arrival to a new duty location, the ability to request ride with touch of a button, and a feature that allows Airmen to alert someone when they are in an uncomfortable situation or going through a difficult time.
Other pitches heard during the event included the EOD Rapid Robot Deployment by Tech. Sgt. Kenneth Dunn and Tech. Sgt. Thomas Gilbert, 509 BW at Whiteman AFB.
It currently takes two people 10-15 minutes to deploy using the standard ramp; Dunn and Gilbert's solution would cut time and manpower in half using an off-the-shelf motorized wheelchair ramp. Their innovative idea allows for a single person to quickly deploy an EOD robot and maintains the safety of personnel and equipment by reducing overall physical toll.
A new vaccine storage bin was pitched by Tech. Sgt. Mircho Plaza, 377 Air Base Wing at Kirtland AFB, New Mexico. The new bin would provide an optimal way to identify vaccines and prevent administration errors while improving inventory management and creating more storage space to accommodate more vaccines.
During his pitch, Plaza noted that 23 percent of all vaccination errors are due to personnel giving the wrong vaccine, which would be mitigated through the implantation of this bin. Additionally, the implementation of this bin, would also save facilities 25 percent of storage space.
Joyce San Nicolas and Capt. Eric Schoenhals, 5 BW and 91 MW at Minot AFB, North Dakota, pitched "ATLAS." ATLAS is meant to streamline the Personnel Reliability Assurance Program data by keeping a personnel repository that allows necessary agencies/personnel to quickly and accurately administer precise oversight of their nuclear and postured missions. The pair noted that it currently takes 3,000 man hours to administer PRAP, and ATLAS can reduce that time by 75 percent while also enhancing availability to inspect programs and reducing travel to bases for inspection.
"Commanders are really hard to get in touch with but they always have their personal cell phone," San Nicolas said. "Through ATLAS, a PRAP message can go to commanders directly."
The final pitch was the Launcher Closure Door Hydraulic Actuator Power Unit Replacement by Staff Sgt. Justin Latham and Staff Sgt. Matthew Thorn, 341 Missile Wing at Malmstrom AFB, Montana. The team's idea to replace the units will not only improve mission effectiveness but also improve Airmen's quality of life by making the task of opening the launcher closure door much easier for missile maintenance teams in the field.
The current units providing power for the opening of the missile silos is dangerous to load, unload and maneuver due to the age (increased chance of fire and shock).
The pair outlined their pitch's benefits noting that a fleet refurbishment costs $204,000, and fleet replacement with the solution would be $47,320. The time for a fleet refurbishment is three-years versus the solution's two-week replacement time.