The NC3 Center's Bill Jones discusses his sketch for a solution during a Design Sprint held at the STRIKEWERX Innovation Hub in Bossier City, La. The Design Sprint was held design the best user experience for a NC3 operator to share and visualize information in near real time. (Sean Green, STRIKEWERX)
By Sean Green | Director of Marketing and Communications
BOSSIER CITY, La. — Air Force Global Strike Command's innovation hub, STRIKEWERX, hosted a "Design Sprint" event March 15-19 in Bossier City, Louisiana, to aid decision makers in AFGSC.
The Design Sprint brought together industry and academia partners over the course of five days to develop a prototype that mapped out an interface for the AFGSC Joint Global Strike Operation Center leadership with a digital model of the Nuclear Command, Control and Communications system of systems to aid in decision making.
Lee McDowell, architecture and advanced programs for the NC3 Center, pointed out the complexity of the NC3 mission and the need to reduce that complexity while providing the correct data to the correct person.
"A static model or archive of documents does not meet the needs of today's analysts or decision makers. An interactive and dynamic model of the NC3 system of systems capable of providing near real-time analysis will better support and empower decision makers at all levels," he said.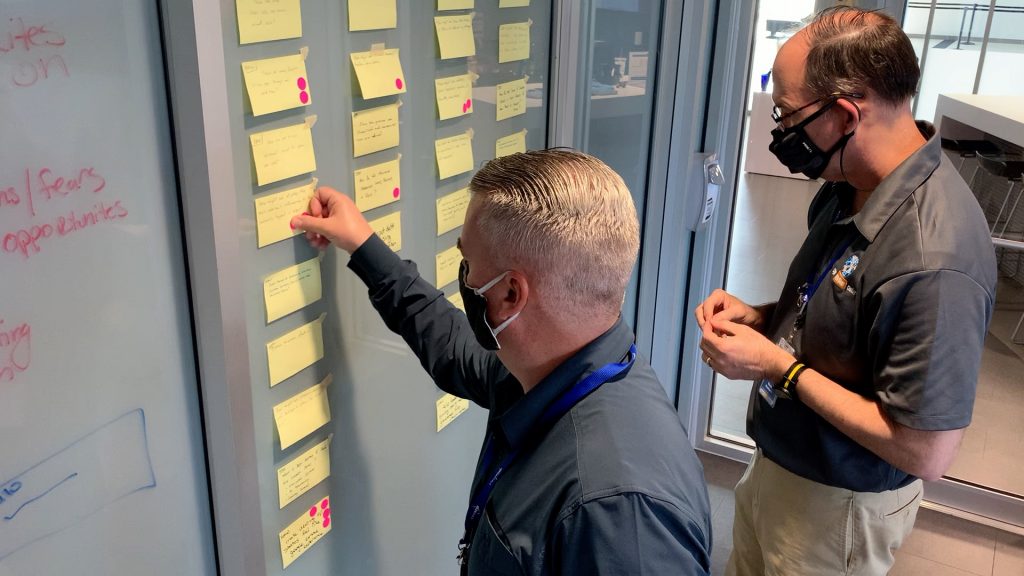 The team of NC3 members, software developer Ruby Shore, and LSU Shreveport web designers was tasked with solving the problem of continual communication confusion, lost time and mistakes due to manual data entry. The team then set about defining the best user experience for a NC3 operator to share and visualize information in near real time.
The Design Sprint team produced a story board of a digital wireframe for a website that will provide necessary data to decision makers across various areas of the command, ranging from operations and planning to acquisitions, sustainment, and training.
"The solution not only reinforces the design sprint process works, but it also shows the power of small teams with diverse backgrounds," McDowell said. "I believe the prototype illustrates better methods for visualizing data using modern concepts and technologies."
The Collaborative Environment will now facilitate the development of the website and allow for industry and academic partners to be incorporated in the development of said website. This Design Sprint, the third performed by STRIKEWERX, exemplified how the innovation hub seeks quick, efficient solutions for AFGSC challenges.
"This was our third design sprint and, like the previous two, it was a success. Our dedicated facilitation team and dedicated industry and academic partners shared their week to solve the need to allow access for near real time decision making in AFGSC," said Russ Mathers, STRIKEWERX director. "We are excited to see our solution mature and help meet needs across the command, from the bottom to the top."
STRIKEWERX will continue to host Design Sprints to tackle various issues from around the command.
"If you are an Airman with an idea to solve a problem, please share it with us," said Maj. Ryan Chapman, AFGSC executive chief scientist. "It could be our next Design Sprint. A dedicated team could make your idea a reality that improves our lethality and readiness."
For more, email info@strikewerx.com.