STRIKEWERX Director Russ Mathers showcases the prototype shell for the ACES II Survival Kit to Air Force Global Strike Command Staff at STRIKEWERX in the Cyber Innovation Center, Bossier City, La. The prototype resulted from a Design Sprint hosted by STRIKEWERX and CyberWorx with refinement by Louisiana Tech University. (Aaron Finney/STRIKEWERX)
By Sean Green | STRIKEWERX Marketing and Communication Director
BOSSIER CITY, La. – STRIKEWERX, Air Force Global Strike Command's Innovation Hub, has delivered their fourth Design Sprint prototype to AFGSC in the form of an improved survival kit for B-52 aircrews.
The design sprint team designed a prototype shell for the ACES II Survival Kit to protect the contents of the survival kit during daily use and from the extreme stresses during ejection. The solution includes a "fall away" container to better protect the soft pack kit.
The prototype resulted from a sprint last April co-led with Air Force CyberWorx at CyberWorx's design studio embedded at the Air Force Academy in Colorado Springs, Colorado.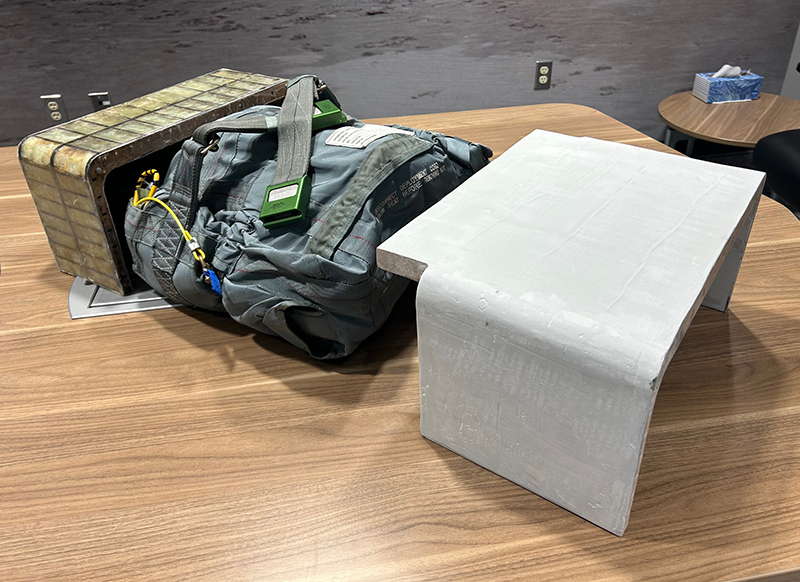 Tech Sgt. Michael McDaniel, air flight equipment quality assurance officer, received the prototype transfer from STRIKEWERX. He was excited about the new equipment and the method of how it was achieved.
"As a team, we've very excited about this prototype and using these types of methods to help modernize the B-52," said McDaniel. "In the past, it took people coming together from different areas of society to innovate how the military fought and it's starting to get back to the point where military, industry and civilians all work together to protect the country."
This marks the fourth delivery of a Design Sprint prototype to AFGSC. Previous prototypes include:
Design of a cover for the Transport Erector Jack Stand, which has since been refined, scaled and is in use at 450 AFGSC missile launch facilities.
Constructing a new jig for more efficiently and safely drilling B-52 brake pads, which will save $124,000 per year and 14-man hours per week.
Engineering a new wheeled cart for storage and deployment of bollards around the AFGSC headquarters building, which is expected to have a positive impact on injury prevention, safer handling and improved deployment timelines for force protection.
The design sprint process brings together a team of business, industry, and government to spend five days defining the challenge, understanding needs, creating a prototype solution, and then testing that prototype.
"This new prototype we're delivering for B-52 aircrews proves that our Design Sprint process is a viable alternative for innovative, quick solutions affecting every level of the command," said STRIKEWERX Director Russ Mathers. "We pulled together a team at AF Cyberworx last year to design and test an initial solution, and then leveraged our local higher education institutions to refine that solution and produce a prototype that could scale."
U.S. Air Force Academy cadets majoring in mechanical engineering used their knowledge to model the high-G forces experienced during ejection on the prototype. Prototypes were tested at the USAFA's indoor parachute training center at Davis Airfield.
Following successful testing there, Louisiana Tech University mechanical engineering students spent the 2022-23 academic year designing and producing a new, additive manufactured material prototype shell.