The STRIKEWERX and AF CyberWorx design sprint team tests their prototype for a B-52 survival kit April 8, 2022 at the USAFA's indoor parachute training center at Davis Airfield, Co. (Susan Rogers/STRIKEWERX)
By Sean Green | STRIKEWERX Marketing and Communications Director
COLORADO SPRINGS, Co. — STRIKEWERX, Air Force CyberWorx, U.S. Air Force Academy cadets, and USAFA Spark Cell have teamed up with government, industry, and academia to design a better survival kit for B-52 aircrews.  
STRIKEWERX, Air Force Global Strike Command's Innovation Hub, co-led a sprint with AF CyberWorx at CyberWorx's design studio embedded at the Air Force Academy in Colorado Springs, Colorado, April 6-8 to evaluate the ACES II Survival Kit integration and activation for the B-52 that meets or exceeds current legacy systems.
The design sprint process brings together a team of experts to spend three days defining the challenge and problem, understanding user need, creating a prototype solution, and then testing that prototype.
Project Champion Capt. Robert Moran from Barksdale AFB said the design sprint process represents a necessary evolution of innovation, design, and acquisitions.
"It is the only time in my career I have witnessed key players in one room, dedicated to solving a problem," he said. "What we achieved in that setting over the course of three days could not have been achieved over the course of a year, otherwise."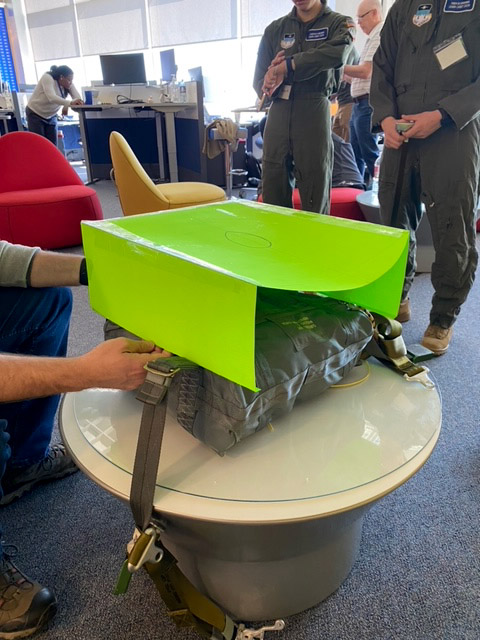 Design sprint participants mapped an end goal, interviewed experts to solve key problem areas, and determined pilots' experiences when ejecting from a B-52 and deploying the survival kit. Two teams were formed with one team focused on creating a "tissue box" shell to protect the survival kit during daily use and from the extreme stresses during ejection. The other on rigging a cord connection from the parachute rigging to the survival kit actuation handle.
"Our team voted where to focus, identified potential failures, and used their respective expertise to research legacy systems," explained STRIKEWERX Director Russ Mathers. "They then explored the solution's purpose and scope, rapidly answering the two major aspects of the ejection process: ejection forces, and automatic kit activation."
Cadets majoring in mechanical engineering used their knowledge to model the high-G forces experienced during ejection on the "tissue box" prototype. They made prototypes using craft materials to test their solution rapidly and cheaply. The automatic kit activation team rigged prototype deployment systems for survival kit deployment.
Prototypes were tested at the USAFA's indoor parachute training center at Davis Airfield. The test saw a B-52 parachute system field rigged with the new automatic kit activation prototype, and the survival kit ejection forces shell.
"Multiple tests saw refinement and changes to the prototype. These changes were crucial in making the ejection forces shell and the automatic kit deployment system successful," said Mathers.
Capt. Moran said the design sprint not only solved the problem but went several steps further by identifying a need for greater protection for the soft pack kit and finding a potential solution for that need in the form of a "fall away" container.
"The application of the design sprint process can achieve incredible results for any problem set," Capt. Moran exclaimed. "Thank you to the inputs from STRIKEWERX, CyberWorx, the B-52 Program Office engineers, Butler Parachutes, TEDGAR, Wings of Blue Parachute Demonstration Team, USAFA Spark Cell, and USAF Academy faculty and cadets."
Capt. Moran's idea was first presented at the AFGSC innovation event S3 (STRIKEWERX Spark Sprint) in October 2021. This event gives Global Strike Airmen the opportunity to highlight and amplify innovative ideas from across the command. The ejection seat survival kit was one of two pitches chosen as winners from the 2021 S3 by a panel of AFGSC Chief Scientist Dr. Donna Senft, wing directors, and industry leads.