The first cohort of the Striker Airmen Coder pilot program was held April 29, 2021 at the STRIKEWERX Innovation Hub located in the Cyber Innovation Center, Bossier City, La. The project saw four Airmen go from no coding experience to developing operating prototypes. (Sean Green, STRIKEWERX)
By Sean Green | Director of Marketing and Communications
BOSSIER CITY, La. — Four Air Force Global Strike Airmen have gone from the flight line to lines of code, thanks to a new pilot program, Striker Airmen Coders.
The Capstone for the Striker Airmen Coder pilot program was held April 29 at the STRIKEWERX Innovation Hub located in the Cyber Innovation Center, Bossier City, Louisiana.
Maj. Ryan Chapman, AFGSC executive chief scientist and head of the Striker Airmen Coder Program, said the six-month program began life as "an idea on back of napkin in the Science and Technology Office."
It evolved to a command-wide call for applicants with 10 respondents. An aptitude test whittled down the participants to five. Those five finally underwent a coding boot camp for three months.
Only four — 2nd Lt. Zachary Green, Senior Airman Tristan Davis, Staff Sgt. Kendra Hill-Daughton, and Airman 1st Class Christopher Ringenberg — survived that process. They spent three months working with college students and a local industry partner, Ruby Shore Software, to develop their respective projects.
"These aren't coders by trade — these are three aircraft maintainers and one finance officer," Chapman said. "Coding can't be siloed, it isn't unique to one area in the Air Force. This program shows what any of our Airmen could do given training and time."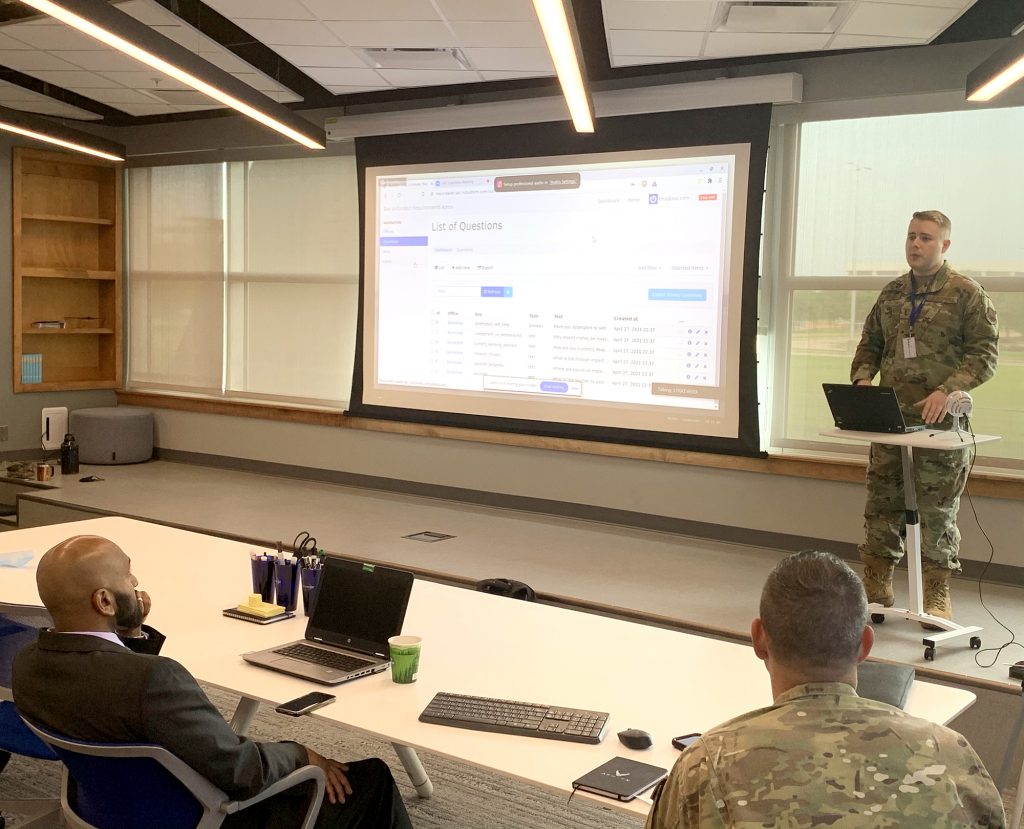 Green set about devising a solution to solve issues with the unfunded requirement report, which he described as a "confusing process that takes a lot of manhours to maintain, and mistakes creep into important financial data."
His digital reporting program is devised to be a single source, that is easy to maintain, and resolves questions about version control.
Davis, a maintainer at Barksdale AFB, Louisiana, had no experience in coding and was volunteered for the program after he impressed his leadership by altering audio in a conference room.
His project was MemWire – a program that allows users to sign up for an account to edit and update an in-depth biography. The program also allows generation of a QR code to easily display the bio and other information such as leadership philosophy, audio recordings, pictures, and award citations for Airmen on their phones and other mobile devices.
Hill-Daughton, a maintainer at Dyess AFB, Texas, showcased the Fast Feedback Application. The project was suggested by Senior Airman Kalei Sloan at Dyess AFB.
Hill-Daughton's web application provides Airmen a way to securely communicate and connect on a digital platform. It features tools to track achievements, goals throughout reporting period, and provides supervisors assistance in reminding Airmen of milestones.
Ringenberg, from Minot AFB, North Dakota, focused on fleshing out the Commander's Dashboard.
This platform was intended as an interface for commanders and high-level supervisors to see training across a squadron. This new digital dashboard displays a myriad of data such as flight schedules, temporary deployments, provides squadron management tools, and more.
Paul Hausgen, Ph.D., AFGSC deputy chief scientist, said the event showcased the effort and progress made by the Airmen.
"This is highly valuable to our mission set. These projects are not ending here, they will be picked up with industry or the next cadre of SAC," he added.
Nick Phillips, CTO at Ruby Shore Software, oversaw all four projects and helped fulfill needs for the novice coders. He said this was a challenge for both the Airmen and the Shreveport-based company.
"They went from zero experience to these accomplishments in only six months. What they were able to achieve is very impressive," Phillips said. "One of the things I look for in hiring at Ruby Shore is grit and these guys have it."