IoT/AI demonstrated their new personal alerting device at Barksdale Air Force Base, Louisiana, Aug. 15-16, 2022. (Joshua Fisher/STRIKEWERX)
By Sean Green | STRIKEWERX Marketing and Communications Director
BOSSIER CITY, La. — A software company demonstrated their unique, next generation personal alerting badge to Air Force Global Strike Command personnel at Barksdale Air Force Base, Louisiana, Aug. 16-17.
IoT/AI, a startup from Silicon Valley, California, and Silicon Hills in Austin, Texas, showcased their technology's capability to immediately contact Airmen in communicationally-challenged areas.
IoT/AI is one of three companies identified by the STRIKEWERX Emergency Aircrew Response Challenge to help revolutionize 1980s technology and redefine how AFGSC aircrews are notified of emergencies with little to no warning.
The company's demo consisted of AFGSC stakeholders and partners in the Office of the Chief Scientist observing tests of the badge's technology.
The company sent alerts to various points around the base, such as the flightline. This illustrated both the alerting communication technology, as well as functionality in controlled areas and distracting environments.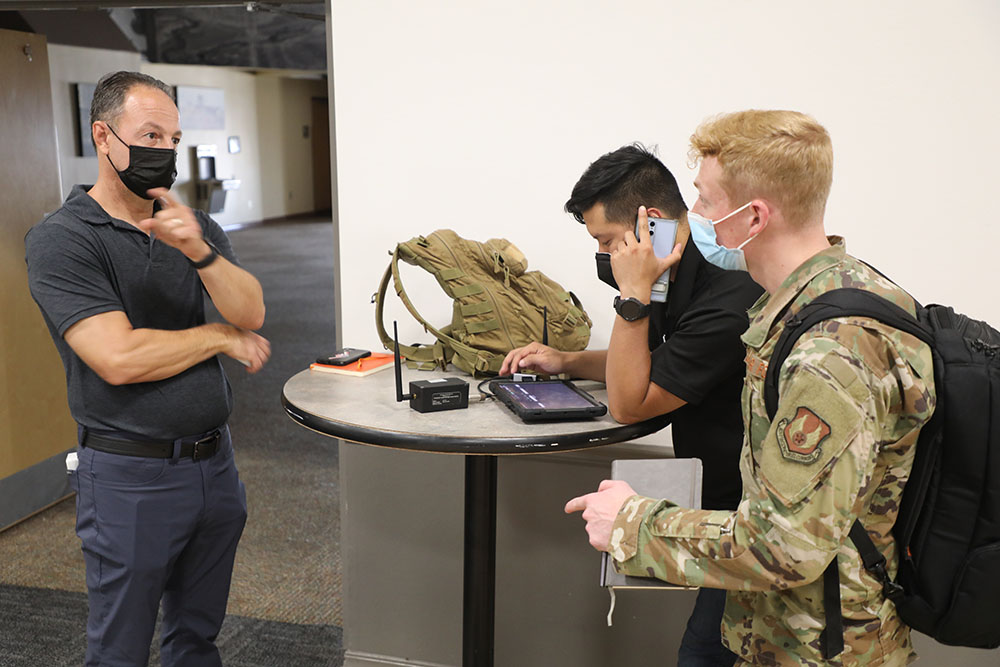 "IoT/AI has quickly adapted their technology to provide a versatile communication device to meet USSTRATCOM aircrew needs to rapidly respond to Command directives," said Steven Davis, EAR Challenge project champion. "During this demonstration, IoT/AI showed that with a couple of tweaks, a flexible, versatile personal communications device could not only be used to alert crews, but modified for several other uses across the flightline."
IoT/AI also demonstrated the badge's reduction in size and weight, as well as new functions such as vibration and visual and sound notifications.
Over a one-year period, IoT/AI was able to transform their technology from a 14-ounce black box into a wearable patch-like device providing alerting, audio commands, and acknowledgement capabilities.
Chief Executive Officer and Co-Founder Kevin Montgomery explained their personal communicator is turning a Star Trek-like communicator for aircrew alerting from science fiction to science fact.
Chief Operating Officer J.D. Stanley added, "The concept of a Star Trek-like device is groundbreaking because it would grant Airmen the freedom and mobility to be anywhere and still be alerted to report to duty."
The challenge event, supported by AFWERX, offered a unique opportunity for identifying solutions from individuals, startups, small businesses, large enterprises, academics, and research labs. AFGSC sought a rapidly fieldable, cost-effective, and user-focused solution to modernize and improve outdated aircrew alerting communication equipment.