Lead Production Superintendent Master Sgt. Erik Kast and Dyess Air Force Base Commander Col. Jose Sumangil instruct Leading for Innovation students during the class held Aug. 25 and 26, 2020, at STRIKEWERX in Bossier City, La. The class, meant to turn AFGSC Airmen into intrapreneurs, grew out of the Dyess AFB spark cell and has scaled up to all the wings in the command. (Courtesy photo by Sean Green)
1st Lt. Victoria Wright | Air Force Global Strike Command
BOSSIER CITY, La. — At the intersection of the Striker Culture initiative and the command-wide push for innovative thinking and building margin, is the Leading for Innovation course.
The first offering of L4I to the entire command kicked off Aug. 25 at Air Force Global Strike Command's innovation hub, STRIKEWERX, with 15 Airmen of various ranks attending from seven AFGSC bases.
This is the fourth iteration of L4I, but the course was previously only offered to local Airmen at Dyess Air Force Base, Texas.
Attendees for the course were personally selected by Dr. Donna Senft, Air Force Global Strike Command chief scientist after going through a competitive process at the wing level. This process required a nomination from their local wing commander.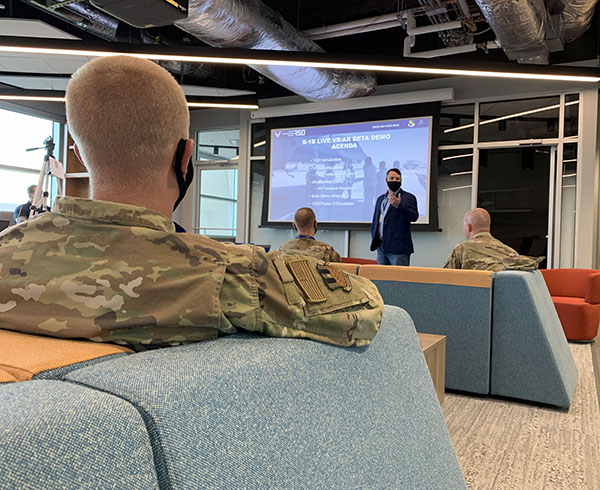 "Innovation is an essential component of the command going forward," Senft said. "In addition to our partnership efforts, we're focusing inward to get our Airmen to think in a different way, and that's what this course is about."
The project-based course was adapted from Hacking for Defense by Col. Jose Sumangil, 7th Bomb Wing commander, and is facilitated by Sumangil and four Dyess Airmen who are also recent graduates of the course.
"We have a lot of talent in the Air Force," Sumangil said. "We just need to provide them the skills and a way to take a problem and find a solution."
L4I is aimed at empowering Airmen to be intrapreneurs by solving issues through a combination of design thinking and problem curation, which strengthens the problem solving skill set.
By offering L4I to all AFGSC Airmen, individuals have the opportunity to network with attendees from other AFGSC bases.
"A solution might not make sense at one base, but when you bring the network together, this solution is able to solve a problem somewhere else," Sumangil added. "This is when real things happen."
According to Senior Master Sgt. Erik Kast, a current course mentor and recent graduate, the purpose of the course is really to teach Airmen how to go out and find problems, rather than creating a solution to later throw at a problem.
"We work to teach individuals to fundamentally understand the problem," Kast added. "When someone looks at a problem with an intention to understand it rather than immediately solve it, they are more likely to find the real problem – not a subset or side effect of that problem."
At the conclusion of the five-week course, graduates are expected to return to their bases and carry the course teachings forward to further develop the local innovation processes and hubs at their wings.