Louisiana Tech University mechanical engineering students presented their redesign of the B-52 Stratofortress' drogue parachute stand to AFGSC staff at the Cyber Innovation Center in Bossier City, La. at the end of April 2023. (Sean Green/STRIKEWERX)
By Sean Green | STRIKEWERX Marketing and Communication Director
BOSSIER CITY, La. — Louisiana Tech University mechanical engineering students recently presented their redesign of a piece of B-52 Stratofortress equipment to Air Force Global Strike Command.
The students participated in a senior design project to redesign the bomber's drogue parachute stand, which is used to load parachutes that are occasionally deployed to slow the B-52 when landing. This parachute loading requires Airmen to utilize a three-story-high stand that must be assembled and disassembled for each use.
The project reimagined the stand as a hydraulic scissor lift, with the goal of improving structural integrity for increased safety, reducing the shipping footprint by 25%, and reducing assembly and disassembly time by 10%.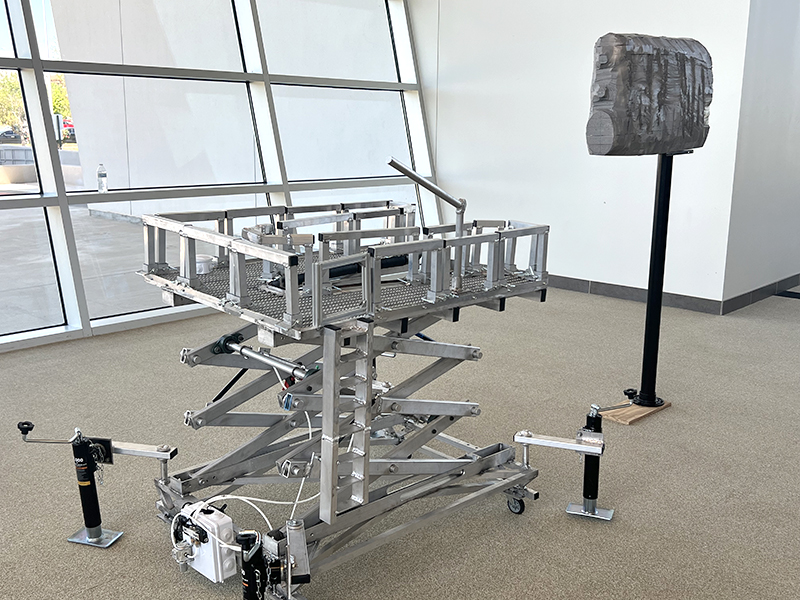 "The students built a one-quarter scale prototype of the drogue parachute stand to address the challenge of readiness for the B-52 aircrews," said Dr. Henry Cardenas, faculty lead for the senior design project at Louisiana Tech.
The team of students were excited to showcase their one-quarter scale prototype to AFGSC staff at the Cyber Innovation Center in Bossier City, Louisiana, April 28.
"It's an awesome opportunity, especially knowing this can be used to improve readiness and have an impact," said Josiah Taylor, a senior design student who worked on the project. "I mean, who else gets to work on a B-52 in college?"
Senior design projects can cover topics ranging from redesigning legacy equipment, researching new technologies to improve processes, or developing software and hardware to investigating ways of improving workflow or analyzing collected data to provide new insights.
"AFGSC has again sponsored a senior design project with the Louisiana Tech University. We feel fortunate to have access to the creativity and expertise of the engineering department's students and faculty in solving command gaps, although participation in the program also provides exposure of higher education students to AFGSC culture, challenges, and potential career opportunities," said AFGSC Chief Scientist Dr. Donna Senft.
The project was sponsored by the AFGSC Office of the Chief Scientist managed by the Cyber Innovation Center via its partnership intermediary agreement with AFGSC.
Steven Arnold, CIC project manager for the senior design project, said this relationship allowed the CIC to engage Louisiana Tech for a result that benefitted all parties.
"This project allowed Louisiana Tech students to apply their knowledge and education to designing, testing and building a prototype that positively affects national defense. The results of this project provided valuable market research to AFGSC and helped inform their requirements for a new piece of equipment for the B-52," Arnold said.
The prototype will now undergo further analysis and refinement by AFGSC.