The 2023 Strike Tank saw five innovation ideas from across Air Force Global Strike Command pitched to a panel of judges Oct. 26, 2023 at the Cyber Innovation Center in Bossier City, Louisiana. Pictured left to right: (back row) Master Sgt. Adam Vasas, AFGSC Chief of Staff Col. Daniel Diehl, AFGSC Director of Logistics and Engineering Brig. Gen. (S) David Miller, AFGSC Chief Scientist Dr. Donna Senft, CIC Vice President Kevin Nolten, Mr. Broderick Laflen, Senior Airman Alisia Davis, (front row) Senior Airman Jackson Wynn, Capt. Chris Ford, Staff Sgt. Gabriel Robison, Lt. Tyler Owens, Lt. Oscar Klempay, and Tech Sgt. William Vojslavek. (Sean Green/STRIKEWERX)
By Sean Green | STRIKEWERX Marketing and Communication Director
BOSSIER CITY, La. — Strikers pitched their ideas to innovate Air Force Global Strike Command during the Strike Tank pitch competition at the Cyber Innovation Center in Bossier City, Louisiana, Oct. 26.
Strike Tank, the annual "pitch" competition to identify the most innovative ideas from across the command, took five ideas from AFGSC Airmen by leveraging the culture of innovation among Strikers. These creative solutions are then given visibility and advocacy for scaling with AFGSC's top leadership.
"Efforts like Strike Tank are helping to foster the innovation culture and improve mission capabilities," said AFGSC Chief Scientist Dr. Donna Senft. "Our office scoured Global Strike to find this group of innovators and give them the chance to showcase how the culture of innovation can transform the command."
Five ideas were presented to a panel of judges including Senft; Brig. Gen. (S) David Miller, AFGSC director of logistics and engineering; Col. Daniel Diehl, AFGSC chief of staff; and Kevin Nolten, vice president of CIC.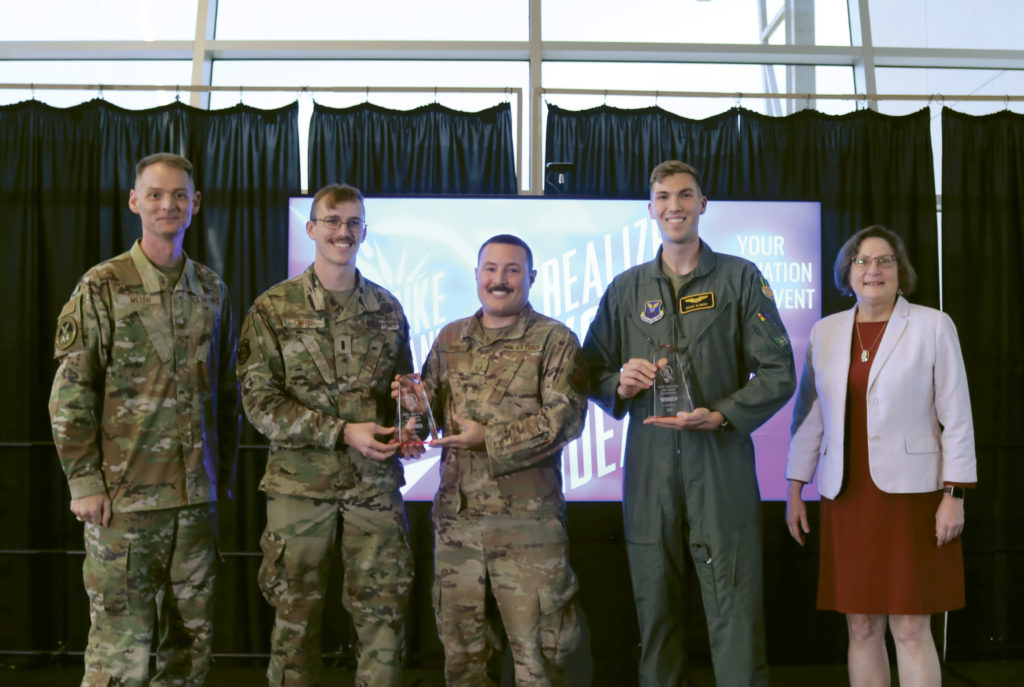 Following the judging, Miller and Senft announced the team of Lt. Tyler Owens, Minot AFB, North Dakota and Master Sgt. Adam Vasas, Barksdale AFB, Louisiana, and Lt. Oscar Klempay, Barskdale AFB, Louisiana, as winners. Their ideas proposed a new cover for the B-52 engine to prevent damage from weather and improve the digitization of training materials for Aircrews, respectively.
"The resources provided at Strike Tank were excellent, especially how the pitch coaches critiqued, shaped and molded my idea into describing the problem for a general officer level," said Klempay. "A lot of ideas are thought of and die out, but the resources provided at Strike Tank help foster and grow them, which doesn't happen often."
Other ideas included a proposal by Tech Sgt. William Vojslavek and Mr. Broderick Laflen, Minot AFB, North Dakota, to preventing HUMVEE engine damage caused by loss of oil; a solution by Staff Sgt. Gabriel Robison and Senior Airman Alisia Davis, Barksdale AFB, Louisiana to reduce and redirect man hours spent on mundane tasks; and a project by Capt. Chris Ford and Senior Airman Jackson Wynn, Dyess AFB, Texas, to improve the time spent delivering supplies to Airmen in austere environments.
Winning ideas will be provided with the resources and funding to drive them towards successful implementation. The AFGSC Office of the Chief Scientist will monitor all submissions for alignment to the 2024 Air Force-wide Spark Tank competition.
This is the competition's fourth year. Last year, winners were Master Sgt. David Bunn from 509th Bomb Wing, Whiteman Air Force Base, Missouri, for a transformation of the entry access list system and the team of Capt. Matt Matuszak and Capt. Stephen Mead, 91st Missile Wing, Minot Air Force Base, North Dakota, for a new B-52 mobile shield enclosure.
You can view the event below: