Steven Davis, NC3 Center lead for the Emergency Aircrew Response Challenge, demonstrates the first prototype for the IoT/AI badge. (Sean Green/STRIKEWERX)
By Sean Green | STRIKEWERX Director of Communication and Marketing
BOSSIER CITY, La. – The futuristic technology of "Star Trek" is closer to becoming a reality for Air Force Global Strike Command thanks to industry developments catalyzed by STRIKEWERX.
IoT/AI, a startup from Silicon Valley, California and Silicon Hills in Austin, Texas, is one of three companies identified by STRIKEWERX's Emergency Aircrew Response challenge to provide major components that would revolutionize 1980s technology and redefine how AFGSC aircrews are notified of emergencies with little to no warning.
IoT/AI demonstrated to STRIKEWERX and AFGSC staff in late October their personal alerting device, which mirrors a real-life badge communicator seen in science fiction like Star Trek. The device is being further refined to potentially be successfully rolled into a program of record.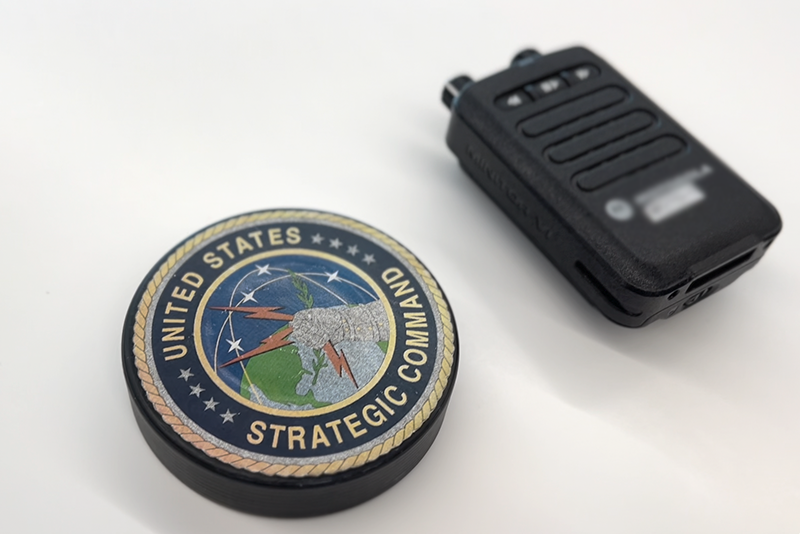 "IoT/AI quickly adapted to provide a robust, versatile communication and data system to meet aircrew alerting needs," said CEO and co-founder Kevin Montgomery. "Our Personal Communicator prototype demonstration was a huge success and validated that the vision of a Star Trek like communicator for aircrew alerting was possible now, not five to 10 years from now."
Over a five-month period, IoT/AI was able to transform their technology from a 14-ounce black box into a wearable patch-like device providing alerting, audio commands, and acknowledgement capabilities.
"We aspired to digitize aircrew alerting with the coolest tech component – a wearable communicator for aircrews and ground crews," said IoT/AI's co-founder and COO J.D. Stanley. "The concept of a Star Trek-like device was groundbreaking for the Command because it would grant Airmen the freedom and mobility to be anywhere and be alerted to report to duty."
Dr. Donna Senft, AFGSC chief scientist, is pleased with the challenge's success in modernizing aircrew alerting.
"This challenge exceeded our expectations for incorporating the latest commercial technology," Dr. Senft said. "The demonstration was not only a prototype of a personal communicator, but a demo of the art of the possible for dramatically impacting the automation and time efficiencies of aircrew alerting."
The challenge event, supported by AFWERX, offers a unique opportunity for identifying solutions from individuals, startups, small businesses, large enterprises, academics, and research labs. AFGSC sought a rapidly fieldable, cost-effective, and user-focused solution to modernize and improve outdated equipment and communication pathways aircrew alerting.
"IoT/AI is building an innovative, ultra-secure, indestructible system to meet the harsh, challenging, and degraded conditions for commercial and defense markets," said Russ Mathers, STRIKEWERX director.
This method of fielding technology transition solutions has already paid dividends with Air Force officials estimating the program's cost dropping from $450 million to $223 million.
"This challenge was a huge success in demonstrating how DoD can work with innovative startups to leap ahead," Stanley said. "We are honored to have had the opportunity to contribute to the AFGSC mission."