Judges and selects for the STRIKEWERX Spark Sprint (S3) pitch competition held Oct. 20, 2022 at the Cyber Innovation Center, Bossier City, Louisiana. (Sean Green, STRIKEWERX)
By Sean Green | STRIKEWERX Marketing and Communication Director
BOSSIER CITY, La. — Strikers pitched their ideas to innovate Air Force Global Strike Command during the STRIKEWERX Spark Sprint (S3) at Cyber Innovation Center in Bossier City, Louisiana, Oct. 20.
The S3 event gives Airmen the opportunity to highlight and amplify innovative ideas from across the command and select two finalists to represent AFGSC at the 2023 Air Force Spark Tank competition.
AFGSC Chief Scientist Dr. Donna Senft sponsored S3 and worked with the command's A9 directorate (Studies, Analyses, Assessments and Lessons Learned), A1 directorate (Manpower and Personnel) and all AFGSC Spark Cells to identify the best ideas for this year's event.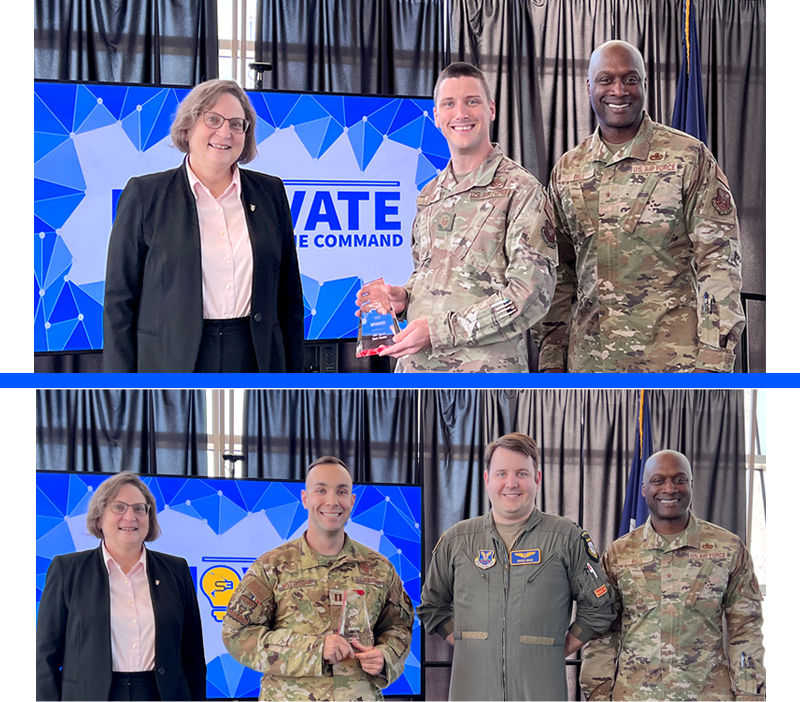 "Events like S3 are helping to foster the innovation culture and improve mission capabilities," Senft said. "The ideas pitched by this group of innovators shows that innovation culture is taking root within the command."
During the event, Airmen briefed their ideas to a panel of judges including Senft; Brig. Gen. Kenyon Bell, AFGSC director of logistics and engineering; Craig Spohn, executive director and president of CIC; and Warren Ward, chief of staff for Louisiana Tech Research Institute.
Following the judging, Bell and Senft announced that Master Sgt. David Bunn from 509th Bomb Wing, Whiteman Air Force Base, Missouri, and the team of Capt. Matt Matuszak and Capt. Stephen Mead, 91st Missile Wing, Minot Air Force Base, North Dakota, won the 2022 S3 competition.
Their ideas for a transformation of the entry access list system, presented by Bunn, and a new B-52 mobile shield enclosure, Matuszak and Mead's proposed idea, will represent the command at the 2023 Air Force Spark Tank competition.
"Everyone was trying to make some piece of Global Strike better, and we all worked to make each other's pitches better," said Bunn. "My pitch would not have been worth anything if there hadn't been several people making it that way. In many ways, I was simply a conduit for ideas better than my own."
This is the competition's third year. Last year, Staff Sgt. Daniel Brewer from Dyess Air Force Base, Texas, and Capt. Robert Moran and Tech. Sgt. Julio Torres from Barksdale Air Force Base, Louisiana, won the 2021 S3 competition with their ideas for a new communications field kit and an upgraded B-52 ejection seat, respectively. All 2022 S3 pitches will now be evaluated for further development by AFGSC Office of the Chief Scientist.
"S3 has huge value for showcasing how Airmen's ideas can have a huge tactical or strategical level impact, while also getting the funding and resources they need to see their project to fruition," said Matuszak.