Gen. Tim Ray, U.S. Air Force Global Strike Command commander, cuts the ribbon during the grand opening of STRIKEWERX at Cyber Innovation Center in Bossier City, La., May 28, 2020. STRIKEWERX is the official store front to traditional and non-traditional industry partners to include small businesses, start-ups and academia. STRIKEWERX provides an "outside the fence" venue to engage and collaborate with non-Department of Defense partners in new and efficient ways. (U.S. Air Force photo/Tech. Sgt. Mike Meares)
By Linda Frost | Air Force Global Strike Command Public Affairs
BARKSDALE AIR FORCE BASE, La. — Air Force Global Strike Command launched STRIKEWERX May 28, a new national innovation hub serving as the command's store front for connecting with industry and academia, finding solutions to the command's challenges and coming up with innovative ideas to shape the future.
Originally planned to be an in-person grand opening earlier in the year, the event was held online with limited attendance due to the COVID-19 pandemic. During the virtual ribbon-cutting event at the Cyber Innovation Center in Bossier City, Louisiana, a small group of socially-distanced distinguished visitors representing local academia and businesses witnessed yet another milestone in AFGSC history, as the command took another step forward with innovation in the nuclear enterprise.
"We are a very small command with a huge mission set, and we know we have to think about things differently. We have to move faster," said Gen. Tim Ray, AFGSC commander, during his keynote speech.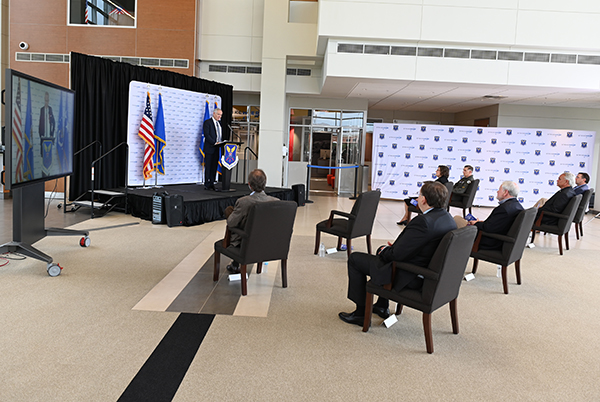 STRIKEWERX will provide the command collaborative space to give traditional and non-traditional industry partners, to include small businesses, start-ups and academia, easy access to meet with Air Force leaders and Airmen to discuss the needs, gaps and requirements faced by the force.
"We want to transmit to the outside world where we need help and create a forum where we can have smart people come in and helps us solve problems quickly," Ray said. "We believe this is a great way to bring in better ideas and faster funding."
Cyber Innovation Center executive director Craig Spohn opened the event, praising the collaborative efforts between AFGSC and the CIC through their Partnership Intermediary Agreement.
U.S. Senator Bill Cassidy, U.S. Representative Mike Johnson and Louisiana Governor John Bel Edwards joined the event with virtual remarks, emphasizing the importance of STRIKEWERX to the ARK-LA-TEX region and how the future development of innovative strategies will strengthen the Armed Forces and the nation, while enhancing progressive thinking and industry in Louisiana.