Pelican Defense's Dr. Chester Wilson, far right, and Joshua Joffrion, right, answer questions from Air Force Global Strike Command Chief Scientist Dr. Donna Senft, far left, and the NC3 Center's Stephen Davis, left, during the Emergency Aircrew Response Challenge Kickoff Event Tuesday, April 14, 2021 at the STRIKEWERX Innovation Hub in Bossier City, La. The event featured updates from selected companies proposing to develop a prototype to update the aircrew alerting system. (Sean Green, STRIKEWERX)
By Sean Green | Director of Marketing and Communications
BOSSIER CITY, La. — Three companies have been selected to provide solutions for the evolution of Air Force Global Strike Command's aircrew alerting system.
AFGSC and STRIKEWERX, the command's innovation hub provided by the Cyber Innovation Center, launched the Emergency Aircrew Response challenge to uncover the best solutions from industry, academia, and others to replace 1980s technology and redefine how aircrews are notified of emergencies with little to no warning.
The six-month long process resulted in three companies being chosen to provide major components of the challenge, with the potential for two more companies to participate.
Pelican Defense will harden the EAR system from an electromagnetic pulse and another small business, IOT/AI, will produce a personal alerting device that can reach aircrews at any location, at any time. Q Networks will demonstrate a 5G network capability to connect aircrew members with command posts.
Now, the three companies will contract with the CIC through its Partnership Intermediary Agreement with AFGSC to provide these solutions.
Steven Davis, NC3 Center lead for the EAR Challenge, said these companies understood the goal of the challenge and found unique solutions that may not have been identified if the command stayed with a traditional acquisitions program.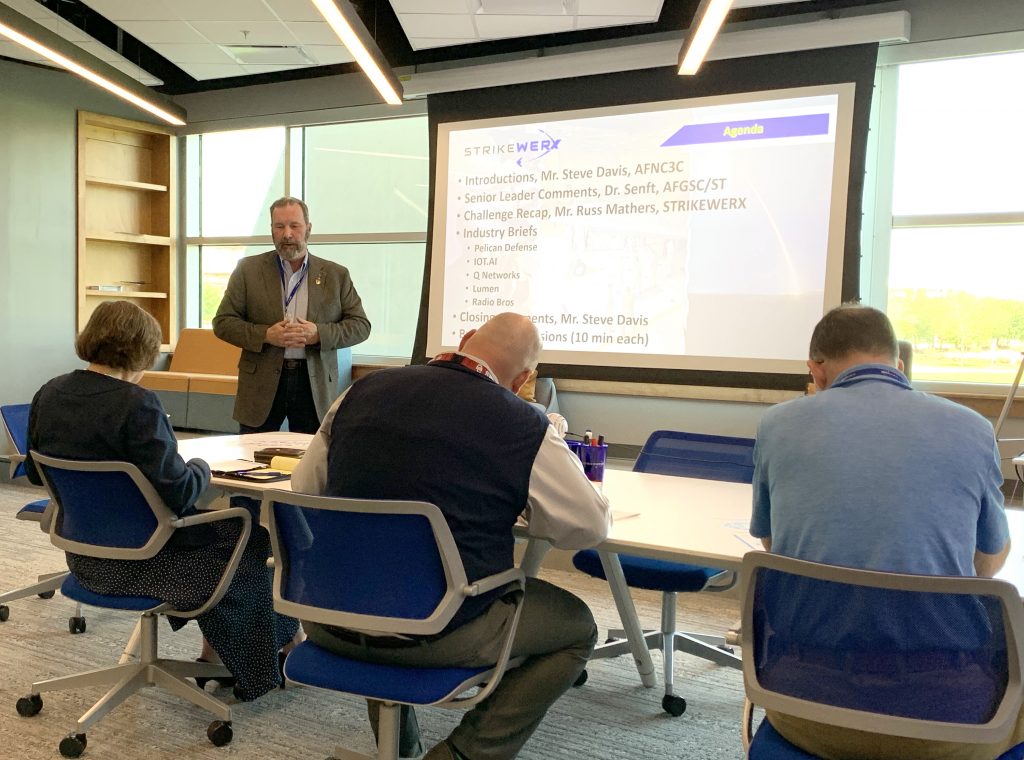 "Companies across the nation provided innovative solutions that opened up the team's eyes to what is in the realm of the possible," said Davis. "Several of the proposals brought to light technologies that could satisfy program requirements, however Pelican Defense, Q Networks and IOT/AI's solutions stood above the rest."
The Challenge event offers a unique opportunity for identifying solutions from individuals, startups, small businesses, large enterprises, academics and research labs. AFGSC sought a rapidly fieldable, cost-effective, and user-focused solution to modernize and improve outdated equipment and communication pathways aircrew alerting.
This method of fielding technology transition solutions has already paid dividends with Air Force officials estimating the program's cost dropping from $450 million to $223 million.
"While we were not the sole reason that more than $200 million was saved, it's proof that the Challenge method is a quick, efficient, and cost-effective way for solving Air Force needs," said STRIKEWERX Director Russ Mathers.
This Challenge event, supported by AFWERX, launched in September of last year with a two-month solicitation period. Following an evaluation process, 17 Showcase participants were down selected from 49 applicants. They presented their solutions in a multi-day virtual meeting in January.
Ten evaluators across AFGSC, Air Mobility Command and the Air Force Nuclear Warfare Center scored these presentations. This process resulted in Pelican Defense, Q Networks and IOT/AI being identified as solution providers for three major components of the EAR system.
Maj. Ryan Chapman, executive chief scientist for AFGSC, was excited by the Challenge event.
"It's all about the users' buy in. The questions they asked during the Showcase demonstrated their passion for this topic and finding a viable solution," he said.
The challenge aimed to result in hardware and software that enables rapid communication via a lightweight, portable device that can reach aircrew members anytime, anywhere — including inside aircraft and secure areas that do not allow electronics — and protected from High-Altitude Electromagnetic Pulse (HEMP).

Mathers noted that evaluators were pleased to see all showcase pitches include a physical device with alerting software, supported by an IT network hardened against EMP.
"I'm excited about the inputs and latest advances in technology these companies brought forward. It's hard to not be impressed by innovative spirit of some of these small companies," Mathers said.